I collect stamps and old postcards with and without stamps from Japan. The cards are from different places or with persons and scenes.
Link to more material is found in the left column
Anker Nielsen, Director
Articles in Japanese Philately
The reorganization of the Japanese Post and a new type of cancellation in the years 2007 to 2012, 69/18-21
Japanese revenue stamps from 1872-1900, 69/113,116-125
OSAKYOswordguard cancel, 69/170
A new variation of roman-letter swordguard postmarks with medium-thick chords, 69/286-294
OSAKYO swordguard cancel - Identified as a fake, 69/360-361
JapaneseAlmanac from Meiji 17 (1884), 70/4-5
Swordguards with Medium thick Chords, 70/132-135
Roman-letter Combs used for Administrative Purposes on Money Orders and Postal Articles to Japan 70/176-182
Book review: 2015 Thematic Japan Stamp Catalogue - vol 1 Flower stamps 71/36-37
New find: TOKIO "Double-Circle" type of a Medium-Sized, Single Circle Cancellation with a 2-digit year 71/94-97
Postal Meters from Post Offices in Japan 71/122-127
Single-Circle Cancellation Variant – Month in Roman Numerals with Serif 71/187-189
First-Day Scenic and Swordguard Cancellations on National Park Issues 71/232-270
Changes in postmarks to foreign countries from Arakawa Ward in Tokyo 71/310-315
Book review: 2016 Thematic Japan Stamp Catalogue - vol 2 World Heritage and Scenery 72/45-46
Types of postal meter designs used in Japan from 1950 until today 72/177-187
Monument for Dead Letters - Update 72/192
Establishment of Japan-Denmark Diplomatic Relations: 150th Anniversary (With Ron Casey) 72/217-219
Cash registration from 1951 to today 72/228-237
Q&A Registered letter send between post offices 1893 73/13
Book review: 2017 Thematic Japan Stamp Catalogue - vol 3 Art and culture 73/42-44
In memory of Bo Tilt SSJP 73/85
Q&A scenic datestamps with and without line unter year 73/99-100
Meter labels and equipment used for self-service at post offices - 1970 to 1990. 73/122-134
SSJP is closed but library and website continue 73/135
Anker Nielsen, Formand SSJP 2003-2018.
Foreningen er ophørt 2018, men web-stedet opretholdes.
Artikler i Nippon Kitte Nyt
Forårsrejse med kirsebærblomster, no 69/3-6
Rejse til Nordjapan i efterårsfarver, no 81/2-4
Det japanske postvæsens organisering og en ny type stempler, 2007-12, No 109/4-6
De tidlige japanske stempelmærker, no 111/2-7
Etiketter fra japanske posthuses frankeringsmaskiner no 121/3-6
Frimærker med ægte eller falske stempler på postkort no 121/7
Særstempel fra Hakodate no 121/7-8
Shinkansen højhastighedstog på frimærker 122/4-5
Transportruter for post fra Japan I perioden 1895 til 1910 122/5-7
Landskabsstempler 123/2-4
Swordguards og landskabsstempler på nationalparkudgavernes førstedagskuverter 123/4-8
Ny type ringstempler med måned skrevet med serif 123/8
Frimærker fra japanske verdensarvsområder (World Heritage) 124/2-8
Nye japanske frimærkekataloger 124/8
Sumobrydning 125/2-6
Historien bag et brev fra Japan 125/6-8
Japan i April 126/6-7
Diplomatiske forbindelser mellem Danmark og Japan 127/2-5
Frimærker om finbindelse mellem Japan og andre lande 127/6-8
Pilgrimsrejse på Shikoku med 88 templer 128/2-6
Kejser Akihito og hans abdikation 128/6-8
Børge Tilt in memoriam 129/2-3
Historien bag et postkort fra Nagasaki til Kiruna 1914 129/3-5
Frimærker for lykynsninger og kondolence 129/5-6
Elektronisk post 129/6-7
Indholdsfortegnelse for Scajaco nyt og Nippon Kitte Nyt for no 1-129 130/2-12
POSTCARD SEND IN JAPAN
This is a postcard with two Maruichi-in postmarks on the card. The top line in the postmark is the name of the province. The second line is the name of the town. Under the divider is the information on year, month, day and time used.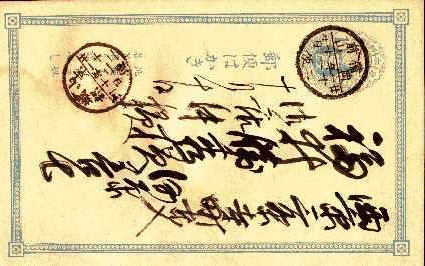 Send from: Okayama in Bizen province 11 Oct. Meiji 21 (1888) time 2 to: Kyoto in Yamashiro province 12 Oct. Meiji 21 time 2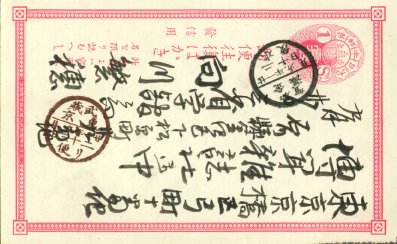 Send from: Kanazawa in Kaga province 20 Sep. Meiji 21 (1888) time 5 to: Tokyo in Musashi province 20 Sep. Meiji 21 time 9.
I also collect swordguard postmarks used on mail send from Japan to foreign countries from 1952 to around 1990. It was only used on some post offices 3000? and in some cases is only used for a short period. If you want to know more about these see the images below and get more information from ISJP, where I keep list of known post offices..
Atsubetsu in Hokkaido province

1 august 1980

This is the latest date found.

Yuwa in Akita province

11 October 1983

This is the first found from the town

Nagoya - heavy lines for main post offices for foreign mail

15 march 1963

Izuhara in Nagasaki province

first day cancel (pigeon)

25 February 1970 only day used!!

Mizusawa in Iwate province

9 January 1996

the postmark type used today

Himeji in Hyogo province

11 December 1989

Small swordguard postmark

Scenic cancellation also used today from Mizusawa in Iwate province

9 January year 8 Heisei (1996) only Japanese text. Many places has these cancellations showing local subjects. Interesting for Thematic Philately.